Get Started by Selecting Your Country:





Some facts about paper recycling: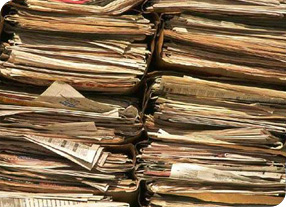 In 2010, approximately 63.5 percent, of paper consumed in the U.S. was recovered for recycling. These recovery rates are only expected to increase as more education and awareness programs are developed for consumers.
Paper recycling and paper consumption continue to increase due to high demand. Experts estimated that the amount of paper going to landfills remains near an all-time low of approximately 20 million tons or half the amount of paper that was sent to landfills in 2000.
Just over 30 percent of recycled paper was used to produce cardboard and cardboard material. Exporting recycled paper is a large component or U.S. recycling. In 2010, over 40 percent of paper collected for recycling was send overseas to China and other countries.
The U.S. Environmental Protection Agency (EPA) estimate that paper and cardboard packaging account for 73 percent of paper material recovered for recycling in the U.S. After a slight decline in paper products in 2009, demand has begun to increase. Demand for recycled paper and cardboard products remain high and are increasing.
Newspaper recovery is declining due to more people recycling but also because the waste stream itself is in decline. Printing paper was estimated at 54.6 percent in 2010, up from 2000. It is accepted that due to the recession in 2008 that there is even more paper that could be recycled that was not accounted for.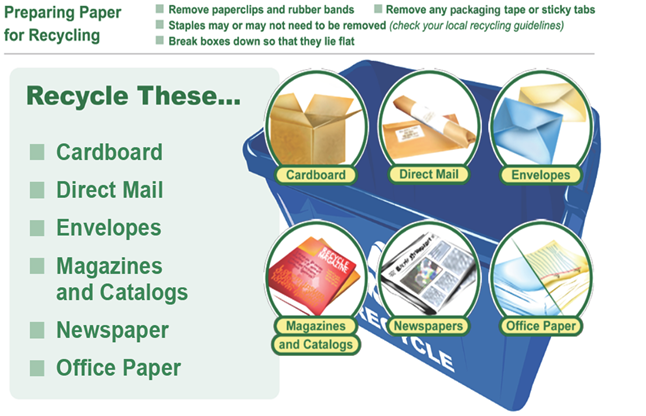 Some examples papers that can be recycled:
Corrugated cardboard (boxes)
Magazines
Office paper (all colors)
Newspapers
Paperboard (cereal boxes)
Paper cardboard dairy/juice cartons (in limited areas only)
Unsolicited direct mail (even window envelopes are okay)
Phone books